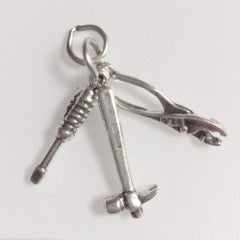 Tools (Pliers, Screwdriver, Hammer)
For the person who gets the job done, this set of tools is a must have. The pliers, hammer and screwdriver move independently of each other. Measures approximately 7/8" x 1/4". 
This charm is sterling and comes standard with an "o" ring. You can have the charm soldered at a jeweler's. Or, order a split ring, and you can attach the charm to a bracelet yourself. 
---
---
More from this collection